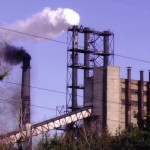 At the beginning of the 1990s doctors began registering numerous cases of children's dental diseases in the miners' Town of Sosnivka (population 13,000 people), Lviv Region, Ukraine. Coal is excavated in this region and drilling in led to the ecological disaster: a large amount of fluorine and salts of heavy metals appeared in the drinking water . Intoxication caused severe injury of children's teeth, enamel hypoplasia and fluorosis.
The number of children affected by these deseases amounted to 2,000. They are mostly children from families with low income unable to afford expensive treatment. The restoration and bleaching of teeth requires photopolymer composites and bleaching materials. The club provided for free of charge treatment and addressed the European Federation and their friends to help with the materials. Owing to the assistance of the SI/E Action Fund, and the money fundraised by the Swiss Union, the German Union, Danish Soroptimist Region 2, Israeli, Austrian, English, Norwegian, Polish and Australian clubs 350 children received treatment and restoration of teeth.
The project received the "Best Practice Award 2004" for exceptional service as a Global Voice for Women in the programme area of Health on August 25, 2004.