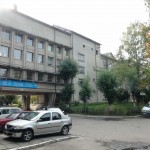 There are 20 beds in the Burns Department for Children. 460-480 children with burns, scars and deformations after burns, frost-bites, wounds which demand plastic surgery are treated in the department annually. About 300 operations are performed in the hospital every year.
20 years have passed since the department was created and it has become obvious that it needs renovation, repairing and sanitation improving. 85 % of children under 6 stay in hospital with their mothers. The conditions of their stay needed improvement badly. Hot running water was not supplied regularly. It was a problem for all the patients, especially for girls and their mothers who could not take shower or wash themselves. Toilets and bathrooms were in deplorable conditions and in urgent need of repair. At present 5 wards, a dressing room, 2 sanitary rooms and toilets, laundry and playing room for children are already repaired, with wards and sanitary rooms having hot running water. As a result of the repairs the conditions of children's and mother's stay as well as the conditions of work of the medical personnel have improved which produced a beneficial effect on the treatment of patients; the period of the children's stay in hospital has shortened, children with extensive burns have better chances for recovery.
The project was sponsored by the SI/E clubs of Luxemburg.