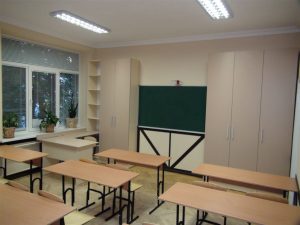 Lviv secondary school No. 45 has been functioning since 1977. More than 1,100 pupils of more than 20 nationalities study in it. 600 of them are girls. 85 teachers work in the school. The school program is very rich and intensive.
All in all children study four languages: Ukrainian, Russian, English and German. Special attention is paid to studying of foreign languages: English and German. Children begin studying German at the age of 10.
The school has got three specialized, well equipped, newly repaired classrooms for studying Russian, Ukrainian, and English.
But the classroom for studying German has not been repaired for many years. The facilities and technical means are really out-of-date. The furniture, the teaching aids also leave much to be desired.
Fur further effective work it is necessary to refurbish the classroom and improve conditions for
studying and teaching.
The money was sponsored by the clubs of Region 2 Denmark, club of Frankenthal, Germany, club of Éisléck, Luxembourg, club of Lviv, Ukraine